SAURER SPINNING SOLUTIONS AT CIIE
Updated: 2018/11/5 17:38:48
TOWARDS INTELLIGENT SPINNING MILLS
Saurer Group is looking forward to participating in the first China International Import Exhibition in Shanghai from 5 to 10 November 2018. At booth 3B6-003 in Hall 3 of the National Exhibition and Convention Center, Saurer will showcase intelligent textile machinery.
The Zinser 72XL is a highly productive ring and compact spinning machine for large spinning mills, with maximum flexibility in the areas of fancy and special yarns. With an incredible length of up to 2 016 spindles, it offers high consistency in quality, features energy-saving technologies and customised automation. With high-speed CS1S silent spindle-bearing units from Texparts, the machine runs at an astonishing speed even during exhibition conditions with a clearly lower noise level compared to conventional spindles.
Linked to the ZinserImpact 72XL is the new Autoconer X6 winding machine with the RFID-tagged Bobbin Cloud advanced material flow system. With a quantum leap in process automation, Autoconer X6 opens up a new dimension of efficiency with smart technology.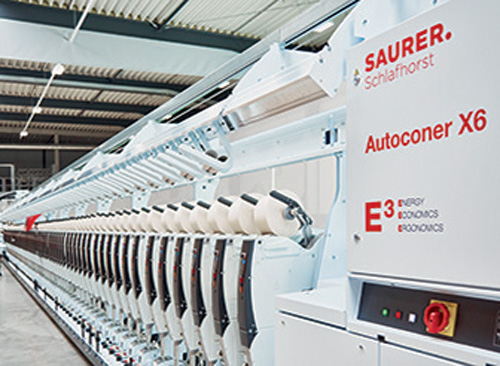 The fully automated rotor-spinning machine Autocoro 9 is highly productive thanks to its single spinning position technology. With rotor speeds of up to 180 000 rpm and with up to 720 spinning positions, the Autocoro 9 delivers technological superiority, boosting production. At the same time, intelligently automated processes increase machine performance and reduce the major costs associated with spinning, offering the possibility to reduce raw material and maintenance costs.